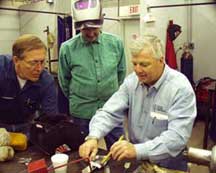 With over 30 years experience, Wyatt Swaim is known throughout the world as the leading expert in the TIG Welding Industry.
Wyatt founded Hi-Tech Welding Services Inc. in 1986, developing a complete production facility geared towards providing the highest level of welding, R&D, welding engineering, and metallurgy to high technology industries. This facility includes TIG, Plasma and Electron Beam Welding, as well as Non-Destructive Testing, X-Ray and Penetrant Inspection.
The author of a number of articles on high technology welding, today, Wyatt consults for The Lincoln Electric Company, and is dedicated to training others to the level of Aerospace TIG Welding. Known throughout the industry as "Mister TIG™", Wyatt conducts advanced training seminars for the Experimental Aircraft Association (EAA), Motorsports teams, and is part of the trackside welding team at the Indy 500. He has done IRL and CART race welding throughout the United States and Brazil, and regularly demonstrates TIG Welding at the AWS Show, the Essen Welding Show in Germany, and the Canadian Welding Show. Wyatt can be reached at technical@tigdepot.net.